Sessay Bowls Club was founded in 1972 by a handful of local enthusiasts who reclaimed the land and laid the green from scratch. The green is located at the centre of the village together with the cricket field and the Village Hall complex and forms the focal point of the village. Set in the heart of the Vale of York, we enjoy views over the Yorkshire Dales to the West and the North York Moors to the east.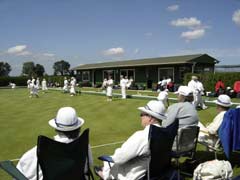 Our membership, which includes Playing, Social and Junior grades, numbers about 30 but what we lack in numbers we more than make up for in enthusiasm. This is illustrated by the fact that we maintain fixtures in no less than three leagues and numerous cup competitions throughout the playing season.
Our facilities are first class with the refurbishment of our new pavilion and our green is of such high standard that we are regular hosts to the Yorkshire County Womens Bowling Association, staging their County matches regularly - quite an honour for such a small village club. Apart from our green, the Ladies do appreciate the standard of our teas, which are served in the Village Hall, where there is a fully stocked bar!
As with most Bowls Clubs, we are always keen to recruit new members and we have a very open and non-discrimination policy. We welcome players of all standards and are happy to give tuition and guidance if required.